Customer Reviews
Write a Review
Ask a Question
09/21/2020
Carla M.
United States
09/17/2020
Kristy A.
Australia
I'm soooo happy I have this pack a second chance!
So i tried this pack for a few days ages ago however I felt more tired. I messaged the Healthy PCOS Facebook page to see if it was normal to be more tired when first starting a new vitamin, it is! About 2 or 3 weeks, I've been taking balance and thermolean religiously. My facial hair is growing at a slower rate, my waist is appearing smaller (my work clothes are fitting a better) and I'm feeling all over better in myself! I'm also upping my water intake and eating healthier (alot more whole foods). It's definitely an investment I'm willing to make long-term. Thank you Drew *COVID-19 friendly high elbow, like a high 5 but with your elbow*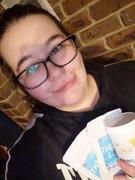 09/17/2020
louise p.
Australia
Good multivitamin
Great products and a must everyday if I don't have I feel worse. So when I take I feel so much more energy less cravings
09/11/2020
Anonymous
New Zealand
I haven't found to much information easy to find on the website about the effects of the product on the body but the Facebook page has been the most help
09/10/2020
Christina H.
United States
Will keep buying
Love these products
Client service
Have a question?
You may contact us!
OUR CONTACTS:
Mon-Fri: 9:00 am - 6:00 pm
Sat: 9:00 am - 4:00 pm
Sun: 9:00 am - 2:00 pm

27 Oak Street, Tenafly, US, 07670
Delivery:
Free delivery all orders of $120 or more of eligible items across any product category qualify
PAYMENTS:
Credit Card: Visa, MasterCard, Maestro, American Express
RETUN POLICY:
You can return any item purchased within 16 days of the delivery date
Do you like any template? Apply its settings to your store — just select the template you like and press the «Apply» button of the desirable one. Templates can be switched at any time.
Applying a new template overrides the settings. Press «Copy» and paste it into any text file to save your current settings.
Import